To the Men: Who Wears Short Shorts?
By: TheModernGatsby
A well-worn pair of shorts is a key feature in the closet of any male style icon, from Mickey Mouse to John f. Kennedy. However, to wear a pair of shorts well, you'll have to walk the tightrope of risk; if the shorts are too long, you will look like Kevin Federline, too short and you will look like an extra from Reno 911. The key is to find a balance point, which will let you beat the heat while still looking fashionable.
Would you like to look like him?  No?  Didn't think so…read on:
1) Not Too Long, Not Too Short
Men's shorts should hit just within an inch of the knee. Too short, and you're approaching girl's short shorts territory, too long and it throws off your body's proportions. No matter how tall you are, having shorts more than 1 inch past your knee cap makes you look shorter. The key is to find a brand that makes shorts your size and stick with it. If you're on the shorter side, getting shorts hemmed an inch or two at your local tailor is a reasonably priced option.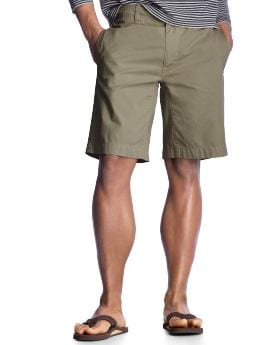 2) Not Too Bright, Not Too Drab
Ask a man what color shorts he wears most of the time and you'll almost certainly hear Khaki, and to be honest there's nothing wrong with this. Khaki is safe, Khaki is secure, Khaki is familiar; however, much like the keystone light you drank for your first beer, you will eventually have to branch out to other options. You don't necessarily have to go with a lime green or a bright pink, but try a slate grey or olive green; or perhaps mix it up a bit with Madras or plaid patterns.  But whatever you decide to do, wear bright colored and pattered shorts at your own discretion - sometimes less is more.
Yes
No
3) Not Too Tight, Not Too Baggy
If your shorts are too tight you risk not being able to move, let alone showing everyone out there the exact outline of your junk. If your shorts are too baggy, you look like you've been shoplifting at Wal-Mart. Again, the key is moderation. You want to maintain a slim silhouette the same way you would for jeans and pants. Try to look for a pair where the shorts create one line directly down from your hips to your knees and try to avoid shorts that either hug your legs too tight or flare out too wide.
Yes
No
4) If Cargo Pockets Are Chosen: Not Too Big, Not Too Small
If you decide to go with cargo pockets (which are useful in a number of circumstances, one being to smuggle your date's soda into a movie), go with appropriately sized ones please. The pockets shouldn't overwhelm the shorts, but at the same time, you don't want them to look ridiculously tiny. Cargo pockets add bulk to a pair of shorts, so if you're wearing shorts with cargo pockets, it's imperative that the fit is on the slim side.
Yes
No
 5) NEVER
Jean shorts (same goes for leather, wool and nylon mesh)
Gym shorts (to anywhere but the gym)
Running shoes with your shorts, unless you're at the gym (same goes for boots)